By: Lauren Lutz
It's the 2016 World Series. We're two games in on October 28th, and the Cubs and Indians are 1-1. While baseball lovers everywhere are lamenting over whether or not their favorite team will "fly the W," brands, companies, cities and even police departments are finding ways to get in on the #WorldSeries. Here's a roundup of who's weighing in on this historic event before we hit Game 3, in no particular order.
1. Taco Bell
This might be the most well-known marketing ploy of the World Series this year. When a player steals a base, participating Taco Bell stores give away free Doritos Locos tacos. This is sort of marketing on marketing on marketing, because Taco Bell, Doritos, and the World Series games are getting some major attention.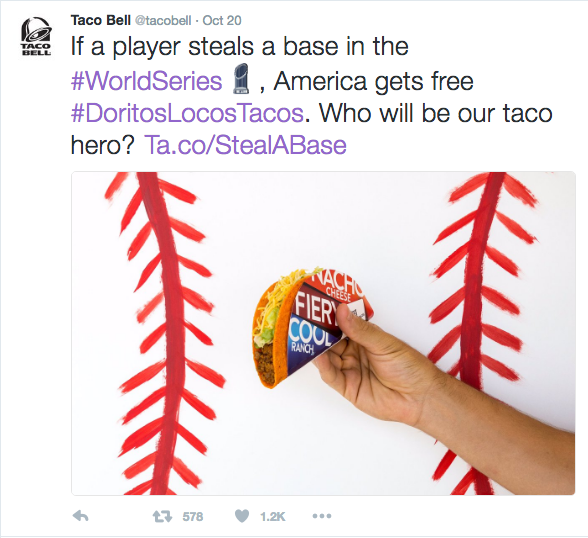 What's more, Taco Bell will probably cash in big despite giving away free food. Let's be real — who eats just one taco? Taco Bell can bank on some extra purchases from these World Series enthusiasts.
2. Lincoln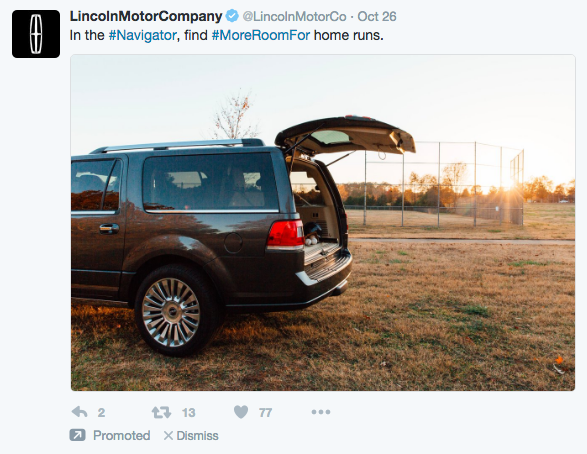 Lincoln Motor Co. was deemed one of Fox's new pre-game sponsors. Their goal? To hit home with families in their new ads.
Lincoln's promoted Twitter ad pulls at the heartstrings of families who are (or have been) involved in local baseball. It represents the nostalgia of those Saturday nights spent at the field with family — and who doesn't need more room when gloves, bats, coolers, chairs and kids are involved. Their tagline pulls the whole message together: "In the Navigator, find more room for home runs."
3. Freshii


This national food chain plans to invest in a long-term relationship with a Cubs fan this year. On October 5th, weeks before the World Series would begin, Freshii vowed to waive its $30,000 fee for a franchisee, pending the Cubs win the Series.
Why? Freshii is looking for a loyal fan to open up shop near Wrigley Field. Good luck persuading baseball lovers to abandon hot dogs, beer, and pizza for quinoa bowls and pressed juice!
4. Steuben County, IN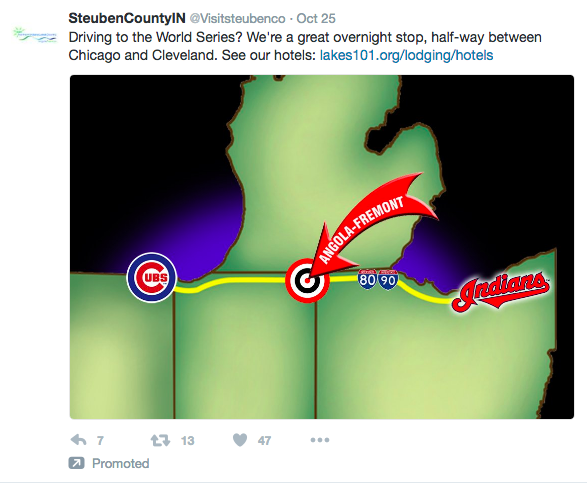 Nestled along the border of Ohio and Indiana, Steuben County is the perfect mid-way rest stop for Cubs fans making their way from Chicago to Cleveland. City officials are well aware. In an effort to win over travelers, they promoted a Twitter ad.
While there are no promoted discounts or savings, Steuben County is definitely putting its city on the map for super fans who made the trek.
5. Chicago CTA
Chicago's main form of public transportation, the CTA, refuses to be left out of one of the city's most proud moments. Pulling a red, blue, and white train out of storage from America's 1976 Bicentennial celebrations, the CTA cheers on the Cubs from the homefront.
Plastered with Cubs posters, the train will take riders to and from Wriglelyville during Games 3, 4, and 5.
6. The Cleveland Police Department
This is just funny. After Game 1 on the 25th, the Cleveland Police Department tweeted, "Missing persons report filed for Cubs offense" with a series of emojis and hashtags to cheer on the Indians.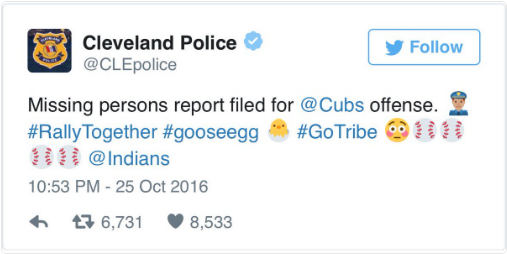 Although the Cleveland Police isn't necessarily using marketing to drive sales leads, their Twitter game is strong. This tweet earned over 8,500 likes.
7. MadTree Brewing
Last but not least, let's recognize some local marketing by Cincinnati-based MadTree Brewing during Game 1. MadTree and Catch-a-Fire Pizza teamed up to promote a Chicago Dog Pizza and select brews. MadTree was sure to warn Indian fans that they could #RallyTogether around this pizza and beer without cursing their team.
TBD on whether or not a hot dog inspired pizza is actually tasty or not.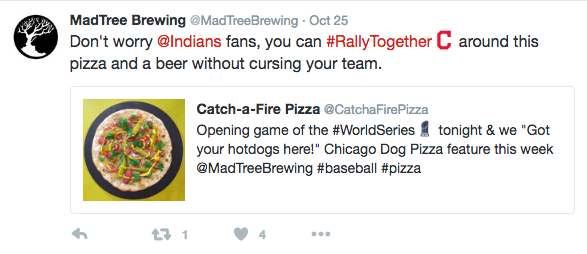 We don't really need brands and well-known companies to bring attention to this historic World Series event. Many baseball lovers have been waiting on this moment for a lifetime — Game 1 earned the highest ratings it has had in 7 years. But while we wait on the results from Games 3, 4, and 5, we can at least indulge in some #WorldSeries-related entertainment.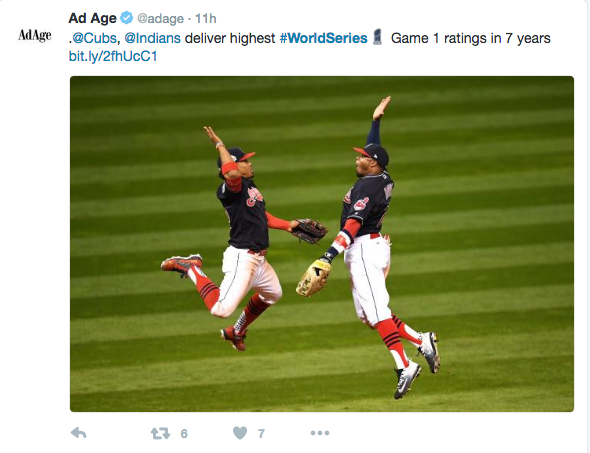 About Lauren Lutz
Lauren Lutz is a content strategist and inbound marketing manager at Cleriti, an agency downtown in Cincinnati. Originally from Indiana, she majored in English studies at Ball State University. Lauren is a lover of dogs, Toni Morrison novels, and making Spotify playlists.