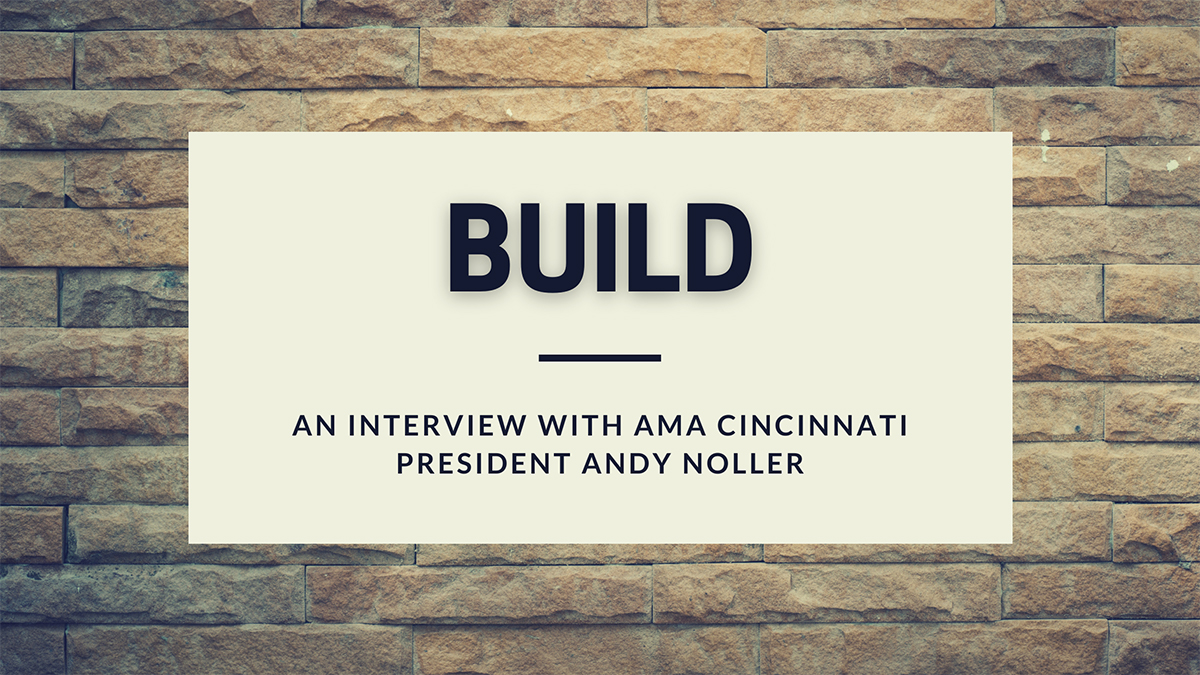 By: Amy Mersch, VP, Marketing Communications
2020 has been a year unlike any other. In so many ways, time seems to be standing still; and yet, we're on the verge of another season of change.
Over the summer, the American Marketing Association Cincinnati chapter ushered in our newest season: the 2020-2021 chapter year. With a new year comes a new AMA Cincinnati President, and even a few new faces on our Board of Directors—all of whom are brilliant marketing and business professionals who volunteer their time, talents, and energy to grow this essential community for marketers in the Cincinnati, Dayton, and Northern Kentucky region.
As organizations look to their leaders now more than ever, we (virtually!) sat down with our 2020-2021 President, Andy Noller, to hear more about his vision for the year ahead and how we can all be part of building a more resilient and inventive community of marketers.
An Interview with 2020-2021 President Andy Noller
You have a long history with AMA Cincinnati. What has that journey looked like?
I became a member of AMA Cincinnati in 2004. I volunteered on the marketing research committee to stay engaged in my industry vocation and keep my skills fresh. From there, I became the VP of Marketing Research on the Board of Directors and held that role for several years.
Most recently, I became the VP of Programming for our IGNITE! Conference. It was an incredible team effort to bring the regional customer experience conference to life, which got me excited to take on the role of President-Elect in 2019-2020, leading up to my year as President. 
Tell us about your "day job" and the professional experience you bring to your role as President.
I'm a consultant with SPINS, LLC, where I help my client and Kroger better understand the natural, organic, and health/wellness products industry, shopper marketing, and trends.  My previous professional experience includes client leadership in the CPG industry, strategy in the agency and business information arenas, marketing research, and small business management.
What compelled you to take on this leadership role within AMA Cincinnati?
I've been on the AMA Cincinnati Board of Directors for years, and I knew I could help continue our chapter's strong legacy. I also wanted to challenge myself by taking on an even bigger role leading the chapter and giving back since I've gained much professional and personal value from my involvement with AMA Cincinnati.
What's your vision for the AMA Cincinnati chapter for 2020-2021?
My vision is simple:  for AMA Cincinnati to be *the* resource for anyone who has a stake in marketing through programming, networking, and other resources for the growth and engagement of the community.
And although we face unprecedented challenges this season, I still want to progress with our initiatives. That's why I set the theme for this year as BUILD.
Despite the challenges we're all facing, I know that the chapter can BUILD upon our operations, our programming, and our community. It's a theme for our whole board to rally around, where we continue to BUILD upon our operational effectiveness (because we run our chapter like a business), our offerings to our members and guests, and our resources for the greater marketing and business community.
My vision is simple:  for AMA Cincinnati to be *the* resource for anyone who has a stake in marketing through programming, networking, and other resources for the growth and engagement of the community.
In your opinion, what makes AMA Cincinnati unique?
One thing that stands out is our chapter's consistent awards over the years from the national level of the American Marketing Association. This recognition is a testament to our hard work and commitment to continually provide the best programming, networking opportunities, and resources to our members and guests–and to never settle for "good enough."
Also, we have a strong board of dedicated, determined people who are always trying to do better, regardless of any awards. Because of them, we can build our offerings from both the experience of our seasoned board members and the new, fresh ideas from folks who are newer to the board. It's a good mix that means the best possible value offering to our community.
Give us a sneak peek. What can our community look forward to in 2020 and 2021?
In 2020 and 2021, we're committed to evolving as an organization to ensure we continue to meet our community's needs and be a resource, despite the uncertain climate.
We want to embrace the need for change as an opportunity to innovate and explore new ways to engage with the marketing community
As we improve on our virtual programming, our community will see the addition of workshops designed for the startup and small business communities. We are experimenting with the delivery format of our IGNITE! Conference and Marketing Pinnacle Awards, two of our biggest initiatives, to ensure they continue to deliver value and elevate the role of marketing in our region. And we're even going to introduce some new offerings such as our Branding (B2C) Community…keep an eye out for the official announcement!
We want to embrace the need for change as an opportunity to innovate and explore new ways to engage with the marketing community
Why should someone get involved with AMA Cincinnati, whether as a member, speaker, partner, or committee member?
In my view, AMA Cincinnati is a destination for professional development.  The skills, network, and experiences I have gained over the years as a volunteer of AMA Cincinnati have directly benefited me in both my career and my personal life. Through my involvement, I've gained skills, from leadership skills to hard skills (software like Qualtrics), and increased my business acumen…all the knowledge gained over the years! And the friendships have been so valuable to me throughout life's ups and downs.
What are your favorite marketing resources? Is there anyone you look up to?
The national AMA organization has amazing resources for all areas of marketing.  I also like our chapter's blogs that give a unique "hometown" perspective. For my work, Food Dive and Grocery Dive are my go-to resources. Two thought leaders I follow and admire are Tom Fishburne, The "Marketoonist," and Stan Phelps of the "Goldfish" books.
Okay, spill. What's your favorite uniquely Cincinnati food, pastime, etc?
My weakness is ice cream, so Graeter's is my favorite Cincinnati food. As some know, my favorite pastime (and hobby) is fireworks! 
Get to Know AMA Cincinnati
Meet our entire 2020-2021 Board of Directors & learn more about how you can get involved as we continue to build our essential community of marketers.