With a long history serving the world-leading retail and CPG giants as well as a long and growing list of B2B leaders in and around Cincinnati, the Marketing Research and Insights Community is thriving and focused on innovation.
Through our Marketing Research & Insights Community, we offer a regular forum for marketers and marketing researchers to network and discuss insights-related trends, techniques, and methodologies, as well as industry challenges and opportunities. Community leaders use a facilitation format to enhance group discussion and encourage ongoing relationships.
Following is a list of recent AMA Market Research Community session topics:
Top Stories in Data Visualization
COVID-19 Impact on Consumers
Squeeze the juice out of your resources: Learning from customers
How do You See Data?
Innovators POV on Marketing Research for Strategic Content ROI
Consumer-Centric Innovation
Upcoming Marketing Research Events
All are welcome at our Marketing Research Community meetings, which are typically held on the 4th Wednesday of the month.
Sessions run from 7:45 a.m. – 9:00 a.m., and are held at OfficeKey in Rookwood Tower at 3805 Edwards Road, Suite 550, Cincinnati, OH 45209.
There is no cost for members to attend and guests are $10.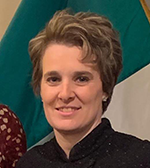 Jamie Grabert
Director Media and Analytics,
DeanHouston