Time and talent is what helps our chapter deliver value for our AMA members and the Cincinnati marketing community. A unique benefit of being an AMA member is getting to volunteer, and with that, comes opportunities for recognition!
Please join us in recognizing and give a jolly "Congratulations!" to our December Volunteer (and Partner) and Board Member of the Month.
December 2018 Volunteer of the Month: Doug Klocke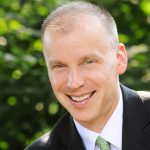 Professional role:  Owner, Klocke Design
AMA Volunteer position: Creative Director, Graphic Design Partner
Reason for recognition (aka "AMA super power"): Doug is a creator. As the chapter's in-kind graphic design partner for the past several years, Doug is essentially the creative director and brand captain for AMA Cincinnati. He has, time and again, simulated board member aspirations, hopes, and discussions and created imaginative, engaging design that supports and strengthens AMA Cincinnati's brand identity. Most recently, his creative direction of the chapter's new Trailblazer Series helped us successfully launch a truly new and innovative part of our programming.
Fun fact: "I'm a proud 'fur-daddy' to Cupertino, our 2-year-old vizsla girl. And don't get me started that Cupertino sounds like a boy's name — we didn't want her held back by gender stereotypes. Adorable photo included."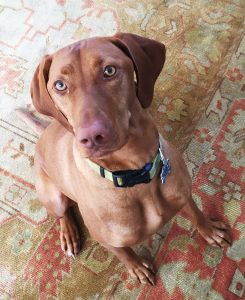 December 2018 Board Member of the Month: Justine Daley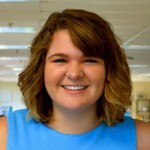 Professional role:  Director of Growth Hacking, The Garage Group
AMA Volunteer position: President-Elect
Reason for recognition (aka "AMA super power"): Taking a 1,000-foot view of our chapter's programming may seem like a monolithic task. But not for Justine. She activated board members and volunteers to create a broad intellectual agenda for Content Marketing Month (in January 2019) so that, across 10 events, there would be a unique angle or approach covered, or a specific audience served, so that Content Marketing Month could offer something for everyone.
Thank you, Doug and Justine! Keep up the great work.