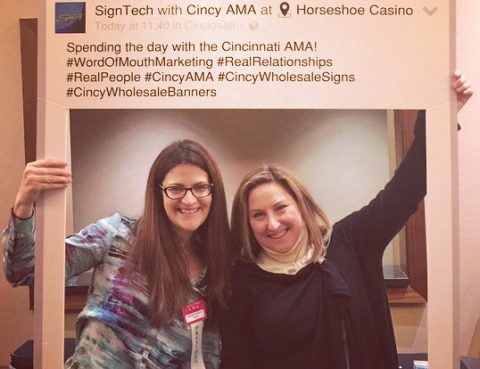 By:
Gina Bonar, AMA Cincinnati President 2016-2017
Simcha Kackley, AMA Cincinnati President, 2015-2016
You remember the feeling: the anticipation of fun and adventure; the challenge to plot your course and beat the lines; the thrill of meeting heroes and mastering the big ride; the happy exhaustion of a day full of action and wonder; and the determined drive to go again tomorrow! It is nothing short of Magic, and it's how we feel about our time leading the American Marketing Association (AMA) Cincinnati Chapter.
AMA Cincinnati 2015-2016: Marketing Redefined
During the 2015-2016 chapter year, we rallied around "Redefining Marketing." It was a unifying campaign that helped us frame our content and community activities around the idea of elevating the role of marketing, and it served as a foundation upon which to continue to build the connections, growth, and inspiration that we all crave as marketing professionals.
Redefining Marketing, as a theme, helped us continue to raise our programming game: bringing acclaimed national speakers to Cincinnati, growing our attendance and consistently receiving exceptional ratings. Redefining Marketing served as a foundation for our new website and our role in the vibrant Cincinnati Marketing community. It gave us the confidence to engage with stronger partnerships and more volunteers. It underscored the meaning of giving back, as our fellow board member and Past President Dennis Devlin earned the inaugural Ric Sweeney National Volunteer of the Year Award.
But it was even more than all of that. It was a reflection of us not just as a chapter, but also as part of a broader international organization poised for meaningful change.
One AMA: Answers in Action
Russ Klein, CEO of AMA, brought his award-winning marketing, servant leadership philosophy, and deep love of the game to the AMA in the summer of 2014, and the organization set its course to become "One AMA."
This year, the AMA rolled out a new (first ever) intellectual agenda that will frame our conversations, both locally and globally, over the coming years. We proudly unveiled a new unifying logo that supports the AMA's new brand tagline "Answers in Action," capturing the unique fusion between scholarly research and managerial relevance found only in the AMA community.
Russ Klein on a leader's conviction:
"It's [chapter leaders] who've built a sense of interconnectedness and created a hardworking love of marketing in your communities, developing people's fullest capacities to create something wonderful together. As marketers, we all hope to build careers seeing what others don't, and when we get it right, we're able to find harmony among the chaos. I think leadership today is about that sort of alchemy. Bring back the hidden dimensions of our human activities and interactions.
"I feel very privileged to be a leader here in what I believe is the foremost knowledge-based enterprise devoted to marketing."
Most importantly, Russ Klein and the AMA opened the door for us all to believe in the magic of marketing. As Russ explains it, "Positivity and optimism are the stuff of magic. It's the magician's elixir and the opening to possibility thinking which is the stuff of transformational creativity." (Psst, you can get to know Russ here.)
Onward and Upward: AMA Cincinnati, 2016-2017
As we head into the 2016-2017 chapter year, our board is ablaze with the energy of momentum and potential. We couldn't wait to dress up in our new brand clothes, so we've already all but completed our chapter rebrand within just two months of the national roll out.
Looking ahead at the coming months and even years, we see continued excellence in programming and leadership, and more giant steps forward in how we work with our partners in the community to deliver the best in networking, resources, ideas, learning and fun. We feel ourselves living and delivering "Answers in Action" every day.
You can continue to count on the A-list line up in our Signature Speaker Series; the laser focus and tight communities in our Shared Interest Groups (SIGs); the recognition and celebration of excellence in our Pinnacle Awards; and the many opportunities to get involved, have some fun, expand your network and experience, make an impression, and create an impact.
With so much to celebrate and look forward to, we also added a new event to kick off the year: a brand launch cocktail party on August 11th at 84.51 (details and registration coming soon!) featuring Russ Klein speaking on the New AMA. Why Russ? Because all of this, as deeply committed and passionate as we are about it, is evanescent without you, our Cincinnati Marketing Community, right there with us.
So with that, we turn the page from one year to the next, and invite you along to help us write the next chapter year for AMA Cincinnati. Let's go again tomorrow!