By: Kyle Shuja
As a college student, an abundance of resume critique sessions and job interview seminars are offered on campus. Many are helpful, but sometimes are more aspirational in their objectives and can lack a real-world lens.
Some fellow classmates and I attended the AMA Cincinnati Young Professionals' Fall Recruiter Panel this month.
The differences in the panel were striking from my prior experiences. I walked away with real advice from experienced recruiters answering meaningful questions from a mixed crowd of young professionals, seasoned veterans, and students like myself. Instead of being told basic advice, I was hearing stories about the most impressive interviews job recruiters have witnessed and key habits that can change the course of your professional attitude. Their advice was thorough yet applicable.
A shy student next to me asked, "How do you get through an interview when you are introverted and nervous?"; a question almost everybody wants answered at some point. Monika Royal­-Fischer, the director of UC Career, services stated that a superman pose was key to giving yourself a boost of confidence and energy (before going in for the in-person interview). The moderators were then asked "What is your biggest pet peeve while doing an interview." Panelists quickly stated the obvious "don't ­do's" then stated some quintessential tips that help like taking full advantage at the end of the interview when the employer asks if you have any questions. This is a time to see if the job is right for you. Panelists suggest to ask about the culture or the future of the company and to ask about some of the hurdles you'll face at your job.
The tips and tricks along with the experience shared from the panelists was by far some of the most helpful advice gathered as a student preparing to enter the professional world.
About Kyle Shuja
Kyle Shuja is a sophomore at the University of Cincinnati, studying Marketing. His favorite thing about being a student at UC is being able to go to school in an urban environment while close to home (Kyle is a Cincinnati native and graduate of Walnut Hills High School). Kyle is involved with three organizations on campus:
TEDxUCincinnati, student government and, of course, the AMA.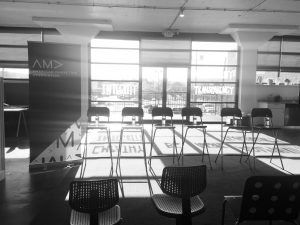 Psst … stay tuned for more opportunities to perfect your resume and interview skills. Don't miss the AMA Cincinnati YP Resume Review and Happy Hour on October 5th. Learn more and register today!