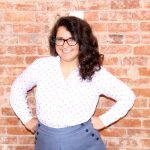 By: Lauren Lutz
Are you looking to begin your career or transition into a role that better fits your growth goals? If so, you know that starting the job hunt isn't exactly easy, whether you're fresh out of college or a seasoned professional. Between your resume, your LinkedIn profile, cover letters and interviews, it pays to be prepared before you dive in. You can totally handle this! Here's a checklist of all the essential elements you should have in place to feel confident the first time you hit "Apply" on that exciting job post.
1. Update Your Resume
If you've had the same resume since you applied for that desk job your freshman year of college, make some updates! Include impressive projects, class work and internships that have helped you develop professional skills. If you've got volunteer experience or were part of a professional organization, emphasize that, too.
2. Get in Touch with References
The best references are people who know you have a great work ethic and an awesome personality. Be sure to reach out to old supervisors, mentors and coworkers that know you best and ask them if it's OK to list them as references. Once you get their approval, take note of their contact information and store it all on one document for easy access.
3. Reach Out to Your Network
Remember your mentor from that community project you took part in? How about your friends that work in the same field as you? Find out if anyone you know can think of job openings that'd be a good fit. About two thirds of candidates who are referred by employees actually get hired — so make sure you leverage your connections to your advantage.
4. Refresh Your LinkedIn Profile (or Create One!)
If you don't have a LinkedIn profile, it's time to get one — 93% of hiring managers use LinkedIn to find recruits that fit their job postings. Make sure you have a recent, professional headshot. Fill out the bio in a way that shows your personality but also demonstrates your expertise. List your job and schooling experiences, volunteer work and special skills to paint the full picture of your educational and professional background.
5. Put Yourself Out There
There are a couple tricks you should know to get some exposure when you're ready to start applying to interesting job posts. First, LinkedIn's "Jobs" tab will be your new best friend if you use it to its full potential. Be sure to fill out your preferences with as much detail as possible, and turn the "Let recruiters know you're open" option on. You might also want to peruse Glass Door and Indeed.com for positions that fit your qualifications. Last, do some research to find talent agencies that could get you in contact with hiring managers looking for recruits with certain skills. It never hurts to try!
6. Prepare for Hard Interview Questions
Once you've put the work in, you'll start to get calls and emails for phone or in-person interviews. Be prepared! The typical advice is to research the company, formulate how to explain why you'd be a great fit for the position and prepare a list of thoughtful questions for your interviewer. But don't forget to be ready for those hard-to-answer introspective questions you're bound to hear. Some common interview topics you should think about are your strengths and weaknesses, ways you've overcome low performance, examples of leading a team, examples of overcoming workplace challenges, etc.
7. Invest in Professional Attire
Last but not least, keep an interview outfit in your back pocket so you can be ready at a moment's notice. Whether you're a male or a female, a blazer is always a solid choice, and so are dress slacks.
This might seem like a lot of work, but once you've got all your ducks in a row you'll be ready to put yourself out there until you find the perfect fit.
About Lauren Lutz
Lauren Lutz is a content strategist and inbound marketing manager at Cleriti, an agency downtown in Cincinnati. Originally from Indiana, she majored in English studies at Ball State University. Lauren is a lover of dogs, Toni Morrison novels, and making Spotify playlists.
###
Join AMA Cincinnati Young Professionals at the Oct. 5th Resume Review and Happy Hour! Bring your resume "as-is" and a pencil, and you'll get paired with a seasoned pro to give you one-on-one advice. Learn more and register today.