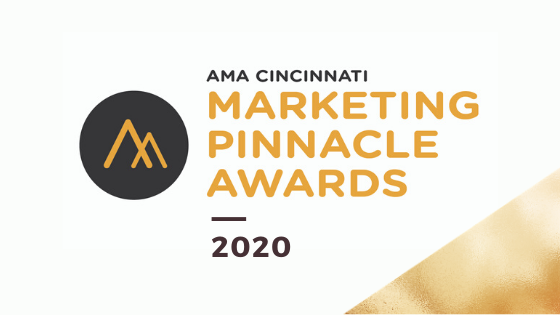 We announced the return of AMA Cincinnati's Pinnacle Awards on May 15. Since then, we've made some more plans, so we've updated this post with all the details you need to know for our event in fall of 2020!
Quick links:
---
There's no way around it: much has changed in the past several months. Our professional and personal lives have been turned upside down as a result of COVID-19.
One thing that hasn't changed? The important work that you and so many marketers are doing across the Cincinnati region.
Nothing can cancel your creativity, drive, and passion. Nothing can cancel the excellence you bring to this profession day in and day out.
The work you do every day to elevate the role of marketing within your organization and across our community matters. It's why the Pinnacle Awards exist, and it's why we feel so strongly about bringing you this opportunity for recognition and celebration.
2020 Pinnacle Awards: What's Changing?
As with most things these days, there will be some changes. First of all, the awards ceremony has been moved from spring 2020 to fall 2020. Read on for all the details!
When, Where, and How
Okay, 2020—no events? No problem.
We're filled with excitement to bring the Pinnacle Awards to you this year via a virtual platform. Get your submissions in, because category winners will gain access to a "Winners' Circle" happy hour for drinks, air high fives, award pick-up (flaunting allowed and encouraged) and promotional opportunities.
We'll use the Winners' Circle to safely gather promotional photos, video clips, and visuals so that we can shout the good news from the virtual rooftops for weeks to come.  
Dates to know
Friday, May 15:

Open for Submissions

EXTENDED to August 21:

All Submissions Due by 11:59pm EDT

September 24:

Virtual Pinnacle Awards Ceremony

September 25: Winners' Circle Happy Hour
Eligibility Window
Because the Pinnacle Awards have been delayed to the second half of 2020, we're also extending the window of eligibility for work. For the 2020 Pinnacle Awards, work submitted must have been created/managed from January 1, 2019, up until June 30, 2020.
The Submission Process: Introducing a new, streamlined portal!
The date isn't the only thing that's new — we've streamlined the submission process to allow submission and payment all within one easy-to-use platform.
After a simple account creation, you can build multiple submission forms, save them for later completion, add them to your cart, and check out all in the same system. Get started now!
Check out our newest category: Best Marketing Pivot!
Resiliency in marketing has never been more crucial than the present. We are often told to consider the unknown, but how many of our marketing strategies were built with the need to pivot in mind? Share the best examples of resilient marketers who were able to pivot their strategies and campaigns to meet the needs of a world in crisis in 2020.
More FAQs
What are the other Pinnacle Awards categories?
In addition to our new category listed above, "Best Marketing Pivot," here are the rest of the awards categories:
Best "Non-Marketing" Marketing Program

Best Collegiate/Student Marketing Plan, Campaign, and/or Program

Best Brand Launch or Rebranding Effort

Best Content Marketing

Best Customer Experience Execution

Best Digital Strategy & Execution

Best Integrated Marketing Campaign

Best Sales Enablement

Best Scrappy Marketing Campaign

Special Merit: In-House Warriors

Special Merit: Research or Insight Catalyst

2020 Cincinnati Marketing Legends
View all categories and descriptions here.
Who is eligible to submit for an award?
If you are a marketing professional in the Greater Cincinnati region, you and/or your company can submit work to be considered for an award for any of the categories.
Can I submit for more than one category?
You can submit for as many categories as you'd like. In fact, we encourage multiple submissions — each submission after the first one is half the cost!
What are the rules?
View all official rules here (under General Rules & Information). But don't forget: work submitted must have occurred between January 1, 2019 and June 30, 2020, unless otherwise noted.
What does a submission entail?
A submission constitutes of the following:
Summary the following areas of your marketing initiative up for submission: Opportunity/Problem; Objectives; Planning & Execution; Results

"Proof" — This can be anything relevant to the submission — PDFs of creative, videos, audio files, screenshots or dashboards of metrics, etc.
View all instructions and how-to here (under How to Prepare & Submit).
Who judges the submissions?
Another AMA chapter outside of Cincinnati will judge the submissions. This keeps things as objective as possible.
What does that mean for your submission? We recommend that you write your submission for someone who is "out of market," as if they've never been to Cincinnati and you are telling them about your work for the first time.
What is a Cincinnati Marketing Legend?
The prestigious Cincinnati Marketing Legend award is like a "lifetime achievement" award; it is not time-bound. Who has made a lasting impact and brought acclaim to the city or the profession of marketing? 
Our 2019 class of Cincinnati Marketing Legends were: Pete Blackshaw, CEO, Cintrifuse; Jim Stengel, CEO & Founder, Jim Stengel Company; and Molly Wellmann, Owner, Japp's Since 1979. Read more about them. #CincyMarketingLegend 
What will the 2020 Pinnacle Awards ceremony be like?
In years' past, we've always been thrilled to bring you Marketing's Big Night with a sparkling MC, networking, dinner, drinks, and lots of celebrating with teammates and friends old and new. See it for yourself here.
This year, in light of COVID-19, we're working hard to bring you a safe, yet stellar, way to get the recognition and celebration you deserve through a virtual event ceremony and a socially distanced Winners' Circle Happy Hour (likely on a patio) for drinks, air high fives, award pickup, and lots of opportunities for promoting you and/or your team and your awesome work.
How can I get more involved?
As we determine how we'll bring the 2020 Pinnacle Awards to life, we'd love to have you as part of the team. Have a skill to contribute? Want to get your company's name out there in a meaningful way? We have lots of roles and opportunities for volunteering, in-kind partnerships, and cash partnerships. Contact us at Pinnacle@AMACincinnati.org to get started.
Here's a recap of the magic from last year's event to spark your excitement: