By: Deskey
AMA Cincinnati has offered 2016 Pinnacle Award Winners and Finalists to contribute to the AMA Cincinnati blog to share details and insights about their award-winning projects.
Deskey and Cradle Cincinnati won in the Nonprofit category.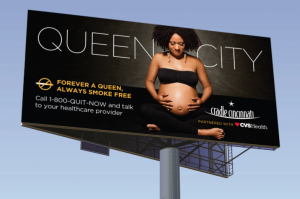 Pinnacle Spotlight: Deskey and Cradle Cincinnati – A Campaign Fit for a Queen
Two of the most difficult challenges in modern communications are (a) convincing people not to smoke and (b) telling independent, expectant mothers how to take care of their bodies.
At Deskey, we decided to tackle both challenges at once.
At least that's how it seemed when we worked on our latest initiative for Cradle Cincinnati. Hamilton County has been experiencing an infant mortality crisis, and Cradle Cincinnati is an alliance of health care providers and government agencies dedicated to reducing the infant mortality rate.
Smoking during pregnancy is one of the key factors in premature birth, which is the leading cause of infant mortality. Somehow, we had to convince at-risk mothers that their nicotine habit was harming their unborn children – and we had to do it more effectively than all the other anti-smoking ads they were ignoring.
With our work cut out for us, we started to strategize. We challenged ourselves to inspire our target to simply reduce smoking. Studies have shown that a moderate reduction in smoking during pregnancy can have a significant effect on birth outcomes.
Sounds great, right? Not so simple. Something about existing anti-smoking campaigns wasn't resonating with the people we needed to reach. So we decided to do the only thing we could do. Talk to them, one-on-one.
Our research revealed that the affected women in our community suffer from daily "micro-aggressions" from a variety of sources. These micro-aggressions result in brain behavior similar to PTSD or combat fatigue. Our target not only wasn't receiving the anti-smoking message, but their brains psychologically couldn't process it.
Through research, we also discovered that these are strong women. Stronger than the community gives them credit for. Strong enough to thrive in an environment that wasn't designed for them. And in the folds of that strength, there is a secret, powerful pride. Pride of place, pride of strength, pride in who you are as a woman and a mother.
We figured: we can work with that.
This is the Queen City, after all. And we thought it was time to remind these women that they are mighty, and that this community believes in them. We created a campaign around it: public transit, neighborhood billboards, health clinics, social media posts, and an award winning 15-second radio transit recording. We even completely made over a health clinic waiting room for expectant mothers.
The results surprised even us. During the months of the campaign we saw the number of calls to 1-800-QUIT-NOW more than triple for our region, specifically among women who were pregnant. Even more significant was a drop in maternal smoking by 10.6% and a drop in the number of preterm births by 10.2%.
That's a big deal. Marketing isn't known for its altruism, but every once in awhile, you get to help give back. We're proud to have found a way to help Cradle Cincinnati talk to its mothers in need, and we can't wait for the next opportunity to make the Queen City a little bit better for babies.