Seven members of the Cincinnati AMA board made a trek up to Chicago the last weekend of April for the annual AMA Leadership Summit. The conference serves as the time for AMA local chapter leaders to convene with each other and extract as many resources as possible from the national AMA organization.
As I write this, I'm exhausted and energized at the same time. What a weekend! Plans, budgets, and new things to try are buzzing in my head. But, in some of the silence that followed after a loud weekend, I'd like to share some highlights with all of you:
Cincinnati received a lot of love and attention
Dennis Devlin received recognition as the Chapter Volunteer of the Year. Even more special is that this award was renamed in honor of Ric Sweeney. Ric Sweeney is not only a past president of the Cincinnati chapter, but also a past president of the Professional Chapters Council and a past Chair of the AMA board. He was also, ironically, the person who had suggested there should be a Volunteer of the Year award ten years ago.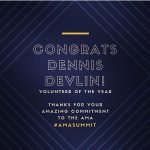 In his acceptance speech for the award, Dennis thanked his AMA volunteer mentors, which included Ric Sweeney, as well as other past presidents of the Cincinnati Chapter, Pat Frew and Will Krieger (who introduced Dennis as the Volunteer of the Year at the Leadership Summit).
Also in attendance and killing it was Rob Malcolm, former Cincinnati AMA'er now out of Austin who kicked off the 2015-2016 Signature Speaker Series in September with "Insights that Transform Businesses."
The lesson: When you show up, you really do get pulled up. Volunteering with our local chapter can open countless opportunities to give more and have a positive effect even outside of Cincinnati.
Lastly, Cincinnati was recognized as one of the few chapters to pilot the new AMA brand.
Oh yeah, we're getting a little brand refresh (There's really nothing little about it)
In an effort to move away from selling memberships to providing better, more meaningful experiences, the national AMA organization has turned over every stone to become more accessible and versatile for its local chapters (and its members, who may only go to ama.org once a year to renew membership).
Summit attendees were provided a peek at what's to come, both visually and operationally, on Friday evening. I can speak for all of us that we could barely sleep that night due to the excitement (and maybe due to staying up late talking with other chapters. And maybe because of the open bar).
Included in this effort is a refreshed look that will eventually be adopted by all chapters, a tone of voice that is more reflective of the diverse members from chapter to chapter, and improved resources for local boards to implement and provide better experiences for their members and event guests.
While this won't be a complete departure from Cincinnati AMA as you know it, we will be engaging in an ongoing effort to reflect the national AMA. Some changes will happen quickly, some will be a slow implementation. We'll try a few new things, monitor results and say "yes" to some things and "no" to others. Stay tuned.
The struggle is real
A/V issues, speakers having to cancel, figuring out the enigma of the perfect networking event, securing those coveted sponsorships–when your chapter runs like a business, it has to keep a lot of initiatives afloat. There is constant relief in commiserating and story-swapping with other chapters, because everyone struggles with these things. But our headaches are quickly ditched to share ideas and recommended solutions in the many breakout and learning sessions.
So while we drank some of the national AMA Kool-Aid (which tasted really, really good) and felt the love, all of us came away with a lot of work to do. The lessons were memorable and the opportunities to gel more as a board were aplenty.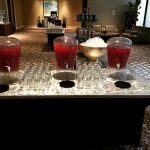 Refreshing!
Stay tuned as we work to bring some new ideas to fruition, try new approaches and build upon the great foundation we have here in Cincinnati. There is no better time to get involved with what we are working on than now. If you want to be a part of the action, instead of being surprised when it happens, contact me to volunteer with us. You can reach me via email. We look forward to hearing from you soon!