It's a rainy Sunday and I'm cold (anything less than 70 degrees in early September is cold to me), but I'm warm on the inside because things are heating up with AMA Cincinnati this month! Here's the lowdown on what you need to know for the month of September:
The hottest marketing conference in Cincinnati
In case you've iced AMA Cincinnati out all summer, I'll fill you in: Our IGNITE! Conference is on Friday, Sept. 21. It's all about customer experience. Whether you're a marketer within an organization that distinguishes itself in the marketplace on customer experience or with an organization that has a ways to go on the CX journey, or maybe you're trying to find your own role within marketing and CX … B2B or B2C … this is the conference for you. You can download the conference app by searching "IGNITE AMA" wherever you get your apps (Note for Android users: the app will be live Friday, Sept. 14).
We can't say it enough: Register, register, register! Also, you can sign up in the app for the special workshop and VIP reception the night before, Thursday, Sept. 20, at 84.51.
Some CX-related things you might enjoy in the meantime:
Chapter partner

EMI Research

hosts a podcast, "Intellicast," and IGNITE! Conference organizer (and past chapter president) Gina Bonar was on a recent episode with IGNITE! keynote speaker Stan Phelps.  Listen to it on EMI's website or on Soundcloud 

(interview starts at minute 17).

AMA Support Center (the big national AMA folks) is hosting a webcast 

on CX. Learn more about it and

register here

. We'll also try to update here with a recording for those who can't make it.
Catch Gina, AMA CEO Russ Klein, Pam Gilchrist (Chick-fil-A) and Kristen Lundbeck (Spectrum) on

WVXU's

Cincinnati Edition

live on 91.7 FM on Monday, Sept. 17, at 1:40 p.m. We'll post the podcast link on our social media channels once it's available.
Our emails are looking a little … different
Something's changed in the #1 way our chapter communicates. We're excited to announce that we've partnered with Cerkl for our email services. Here's what that means to you:
If you normally receive our emails, you should have received a "Welcome" email by now (around Thursday/Friday Sept. 6/7) inviting you to personalize your preferences. This means that, in a matter of minutes, you can select:

What type of content you want to receive from AMA Cincinnati

Maybe you

only

want to hear about AMA events. That's fine! Maybe you

only

want to receive articles about digital marketing or get information about events specific to digital marketing. That's fine too! Pick what you want. There are a lot of options.

How often you want to receive emails from AMA Cincinnati (daily, weekly, whenever)
When you want to receive emails from AMA Cincinnati (2 a.m. on Wednesdays, 10 p.m. on Saturdays, every day at 8 a.m. … you do you)

Once you personalize, AMA Cincinnati emails will likely come with the subject line of something along the lines of "Just For You: The Top AMA Cincinnati Stories This Week" or "This Issue: Young Professionals, Workshops, + 6 Other Stories"

If you

don't

personalize, the cool thing is that Cerkl will learn your behavior over time (what articles or events you click on) and start to personalize for you.
Please bear with us through this transition, as it's new and we are still adopting best practices and learning by experience. Consider this our chapter's way of leaning on our partner to tap AI to help personalize communications for our customers for a great (say it with me) Customer Experience!
ICYMI: We have a new community
We've officially launched our Executive Marketer Community, and we want you in it! Learn more about it here, such as the requirements (number of years' experience, type of roles and responsibilities, current AMA membership, etc.) and how it complements the CMO Roundtable Program we host in partnership with the Cincinnati USA Regional Chamber.  Questions? Reach out to Dennis Devlin, VP Programming – Executive Marketer, at execmarketer@AMACincinnati.org.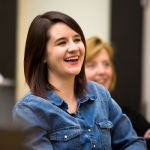 Until next time …
Suzanne