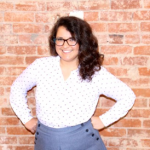 By: Lauren Lutz
I'm currently a content strategist and account manager at Cleriti, a marketing agency in Cincinnati. But, I wasn't always a marketer. I was actually an English major in college, and just graduated in 2014. And believe me, I had no idea I'd end up in marketing. However, I knew I wanted to study something I loved and be able to apply my skills to a job outside of academia. What's crazy is that all the effort I put in actually paid off, and I landed an awesome job a couple months after graduation.
I want to share my "wisdom" with all of you college students struggling to get the traction you need to set up your first career. Here are some tips from my own experience that are sure to help you avoid a panic when it comes time to apply.
1. Get Some Professional Experience (Outside of the Classroom)
Yes, your classes provide you with a wealth of knowledge you need to grow and develop new skills. But, when it comes time to start the job hunt, it's your experience outside of the classroom that sets you apart from all of the other graduates out there. Search for internships. Check with your career services advisors about how to start your search. Chat with professors and department heads about contacts they might know who are looking for summer help.If you have trouble finding an internship, join an organization or a club within your department. You'll get some valuable experience and the chance to network with people you've never met. I wanted to expand my skills during my sophomore year, so I started working at the Writing Center as a tutor. Not only did it sharpen my editing skills (which helped me land internships later), but it helped me expand my network (which helped me land my first job!).
2. Keep Working on Your Resume
If you want to stand out, you need an awesome resume. And no, I don't mean it should be professionally designed. While a clean, functional design helps you get noticed, you also need the right content. Here are a few tips I picked up as my resume evolved:
Try to give yourself a personality that's appropriate for the industry
Words are your friend — you can spin that community project as professional development with the right language and framework
As you list your jobs, make sure every sub point is an action item that shows what you accomplished
Don't leave out any volunteer or freelance work
Leave out jobs that aren't "professional" in the industry you're applying in (i.e. babysitting, grocery store bagger, catering server, etc. — those jobs you had in high school)
Once you think you've got all of your bases covered, have it checked out by peers, mentors, career services staff, professors, whoever! Get it in front of other people, and don't be afraid of constructive criticism. Those with more experience than you often have valuable advice. If you don't have any professional jobs to list, be sure to join some organizations and start getting involved on campus to help build up your resume so you can get the internships you want.
Tap into Your Network
Even if you don't think you have a network, you probably do, or at least have the potential to build one. As I mentioned in the first point, I made a contact at the Writing Center who eventually led to me getting my current job at Cleriti. She was in graduate school, and when she left, I asked her to keep me in mind as an employee as she got into the publishing world. She remembered that! And although she didn't end up in publishing, she reached out to me when her marketing agency needed a new content strategist. That tiny communication paid off.
Remember: You need to get involved to get a network. Try a new on-campus job, join your university's AMA chapter — just get yourself out there. Not only will it open new doors (like internship opportunities), but it will teach you how to socialize like a professional. I will say this: All of the internships and jobs I've had were the result of a connection I had made previously.
Get Out There and Be Great!
When it comes down to it, I think the key to making your post-college job search easier is getting outside of your comfort zone. It's really scary to start applying for internships you don't feel qualified for. The point of internships and new professional experiences is to learn, grow, and develop. You aren't an expert yet, and that's OK. Just get yourself out there, try something new, meet some new people, and build up your skills! It'll pay off big time after your senior year.
About Lauren Lutz
Lauren Lutz is a content strategist and inbound marketing manager at Cleriti, an agency downtown in Cincinnati. Originally from Indiana, she majored in English studies at Ball State University. Lauren is a lover of dogs, Toni Morrison novels, and making Spotify playlists.
###
Are you just embarking on  your collegiate journey in a business or marketing major? Or did you recently take a "last first day of school" selfie? Maybe you've been in the workforce a couple years and looking for a change? Join AMA Cincinnati at the upcoming Recruiter Panel! This is the event to help you prepare for upcoming career fairs and your first rounds of job interviews by asking your burning questions of this expert panel. Plus, it's a great networking opportunity that knocks out #1-3 above.